Open topic with table of contents
Built-In and Basement Garages
The following explains the difference between a built-in garage and a basement garage.
Built-In Garages
A built-in garage is built into the residence at the first floor or grade level, which has living area above. The following illustrates various built-in garages.
| | | |
| --- | --- | --- |
| 2 Story with built-in garage | Split level with built-in garage | Bi-level with built-in garage |
Do not include built-in garage area in the Finished Living Area on the Edit Building Information dialog.
Basement Garage
A basement garage is partially or mostly below grade, with its entrance level with the basement floor.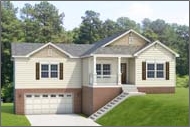 Help file last modified: 7/26/2018